Shop boho dresses online
Fashionable and timeless...
A must-have is the boho dress.
The boho dresses will showcase your formal or informal femininity 🥀while preserving comfort and ease of movement, whether floral 🌼or simple, slit or asymmetrical, white or colored. Boho clothing🌸embodies the bohemian lifestyle perfectly, as it is flowing, loose, and vaporous.
FREE SHIPPING
All boho dress orders with eligible items across any product category qualify for our free global shipping.
SAFE CHECKOUT
Secure payment options, including PayPal and major credit cards such as Visa, MasterCard, Maestro and American Express.
EASY RETURNS
If the boho product you got wasn't what was advertised, we'll give you a full refund without you having to send the boho parcel back. 
🌺 Embracing Your Inner Boho & Finding Your Inner Freedom
The boho dresses are light, generous, and flowing, and it gently follows the body shape. The dress is both formal and comfy, allowing us to display our femininity while yet allowing us to move freely.

We like it whether it's floral, plain, straight, asymmetrical, maxi or midi. The boho clothing, regardless of style or fabric, is ideal for holidays, sunny beaches, strolling through fields, and, of course, for freedom.🌷
The life of a bohemian🌷
Perfect your hippie chic style, as well as boho clothing trends... but that's not all!
The boho clothing style🌸 is more than simply a fashion statement; it's also a way of life, a mindset that values freedom, travel, and a carefree way of existence. By reading our blog, you will learn, among others, the origins of this way of life, décor ideas for a bohemian environment or even a list of the top hippie fashion ideas.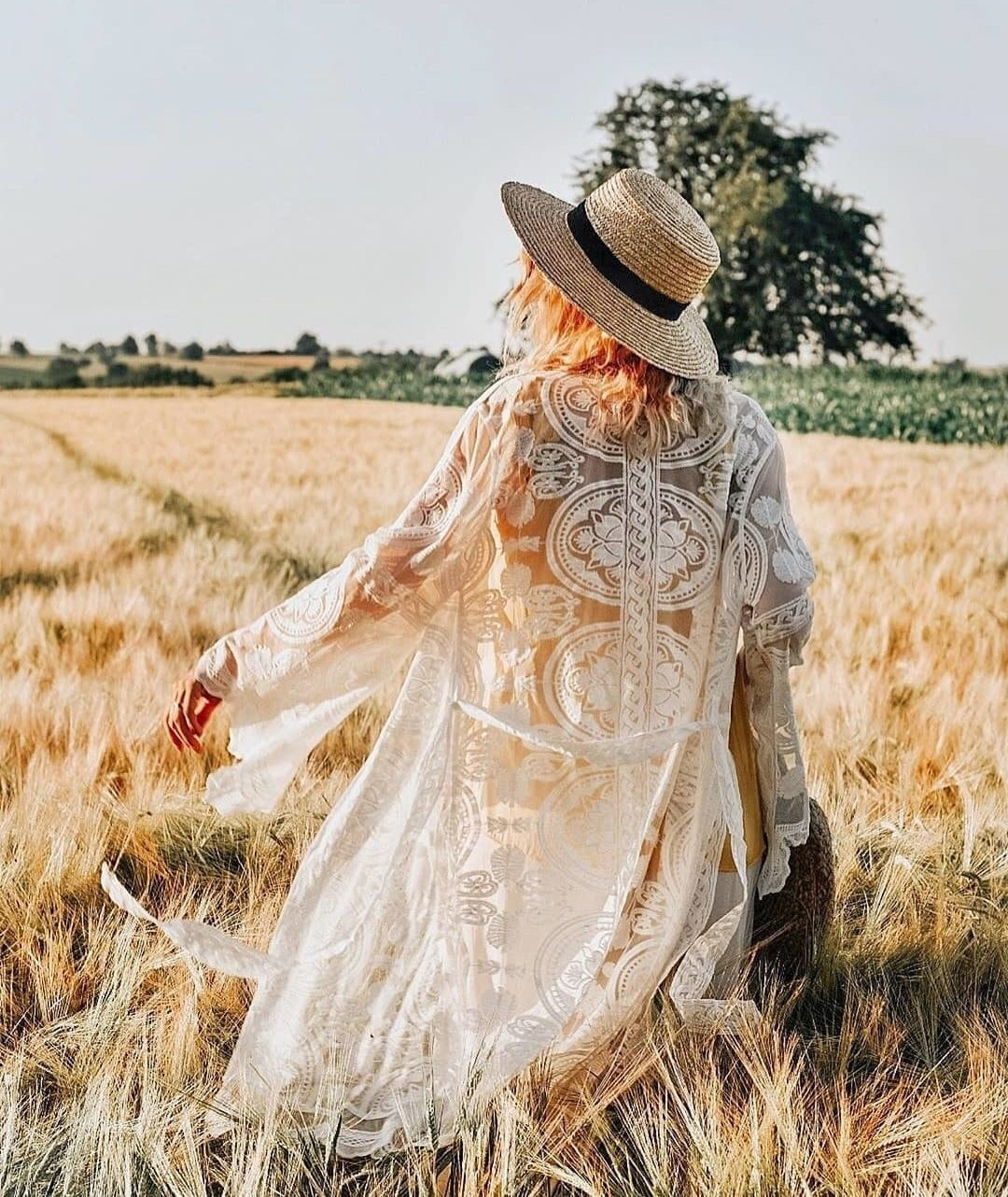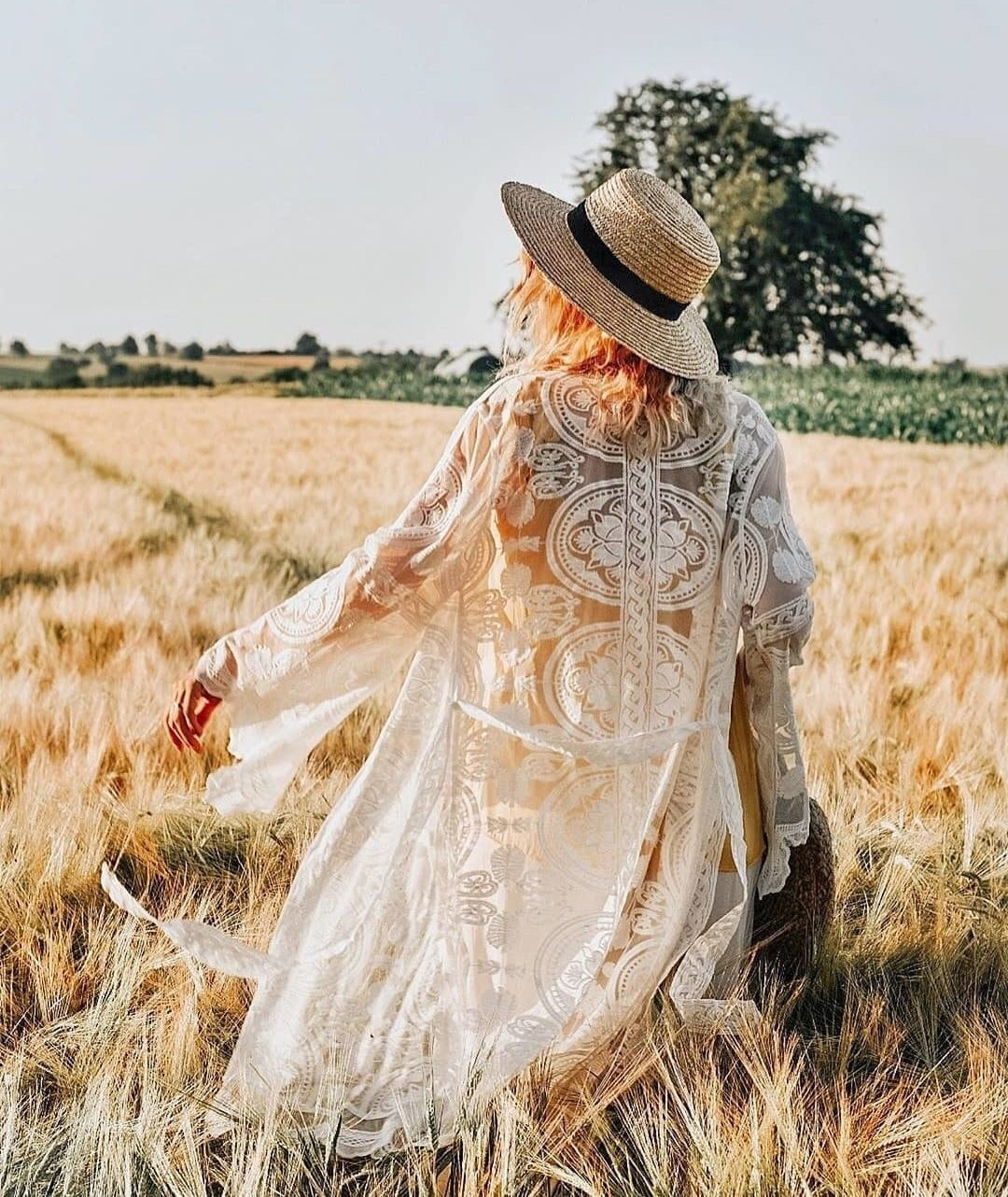 Bohemian Kimonos Online
Shop the hippie selection of Boho Kimonos that come with a variety of styles, prints, and patterns.
Looking for something?
We've got tons of great boho products.
Boho Dress Official FAQs🥀
🌸 What exactly is the Boho style?
The bohemian style, which exists somewhere between travel and romance, rock'n'roll and hippy, comfort and femininity, likes to defy fashion conventions and has done so for centuries. When we think of bohemian, we automatically think of the hippies of the 1970s, fashion queen Jane Birkin, or Charles Aznavour's renowned song. Not to mention the fact that it is primarily a 19th century literary and artistic trend relating to the Romanies' or bohemians' marginal, unstable, and fantastical existence.

As you can see, dressing as a bohemian involves wearing a comfy attire that allows you to move freely. It's all about blending styles by incorporating a rock, elegant, or romantic element into the ensemble. It's about getting dressed in a relaxed manner 🏵️without adhering to rigid restrictions. Some of you will go for a vintage bohemian aesthetic, while others will go for a feminine and refined boho chic approach. Whatever you do, keep in mind that comfort is the most important aspect of the boho look.

In our collection, we simply offer comfort, quality, and individuality. This online clothes store will undoubtedly become your favorite. We enjoy loose, supple, flowing clothing with flower or ethnic motifs, as well as handmade jewelry at Boho Dress Official. Natural fabrics like cotton, linen, muslin, and velvet are our favorites. Similarly, we try to stay as near to nature as possible when it comes to colors: white, beige, brown, green, red, orange... Shades that can be found in nature. Finally, our boho clothing is embellished with lace, embroidery, pearls, buttons, and fringes, which we know you'll adore!

How do I know what boho size I need?
Because the sizing of our products differs from one to the next, we've provided a size guide for each item on product page. If you're unsure about which size will work best for you, please contact us at info@boho-dress.com.
Do I have to register on Boho Dress Official?
No. Just go to boho-dress.com.com, browse the catalog, add your favorites to your basket, and check out. You don't need a membership to order from us.
What payment methods are accepted?
All of these credit cards are accepted as well as Discovery Network and American Express. You don't need a PayPal account to use your credit or debit card to pay for your order.
How can I track my boho order?
The tracking information for your order can be found by visiting your Order Confirmation page and clicking on the link provided via email. 99% of the time, Boho Dress delivery will be on schedule as promised. Contact us at info@boho-dress.com for any issues.
My boho order has not been received yet.
After you've made your payment, we'll send you a confirmation email that we have received your order. This doesn't mean your order has been shipped. New orders usually take about 2–3 days to pick, check, pack, and ship.
What is your return policy?
If the boho product you got wasn't what was advertised, we'll give you a full refund without you having to send the boho parcel back. Please feel free to contact our team for a full refund if it does not meet your expectations.
Can I change or cancel my boho order?
If the shipping has not yet been confirmed, we may cancel your order. Please contact boho team asap at info@boho-dress.com and we would love to assist you with your change or cancel request.
How do I know about new boho products & discounts?
Sign up to our boho newsletter (at the bottom of this page) and get product updates and discount offers.
What if a boho item is out of stock?
If your boho purchase is out of stock, we will contact you via the email address you provided when completing your order.
What if I realize my details are incorrect?
After placing an order, please contact us at info@boho-dress.com and include your order number with the right information. Our boho team will be happy to assist you with your order.
How long does it take my boho package to arrive?
We understand that you're excited to receive your order, which is why at Boho Dress Official we make it our priority to deliver within 2 weeks (excluding processing times). Our deliveries can sometimes be even faster depending on your location, the items you ordered and the courier we use! As soon as you place your order, you'll receive a confirmation email from us, followed by an email with tracking information so you can stay up-to-date on your delivery.
What if my boho item came defective?
Team at Boho Dress is always here to assist you in an event that your boho item is damaged or not as advertised. If you're not satisfied with your purchase, we'll provide you a full refund or replacement. In such an event, please send detailed pictures of item(s) at info@boho-dress.com with a description of the problem/damaged item together with your complete name, order number.
How secure is Boho Dress Official site?
We guarantee compliance with the Payment Card Industry Data Security Standard (PCI DSS) global categories. All transactions are subject to SSL Encryption and your information is not stored or accessible by unauthorised personnel.